Great for the small customer and great for Schmutte, too
So in one stroke, our partners at Schmutte have increased flexibility for all small-scale producers, cut storage costs and slashed cost per order. In addition, since smaller hen farmers can order as little as two pallets at a time, Schmutte enables them to buy 6 or 10-egg boxes and offer their customers more choice. 
And of course, it means they can market different ranges of eggs – for instance, coloured and boiled eggs, or short-term promotions - in smaller quantities with individually-designed labels.
It's clearly a significant acquisition by Schmutte and represents a huge investment in their current and future customers – improving both service and value on a scale not seen before.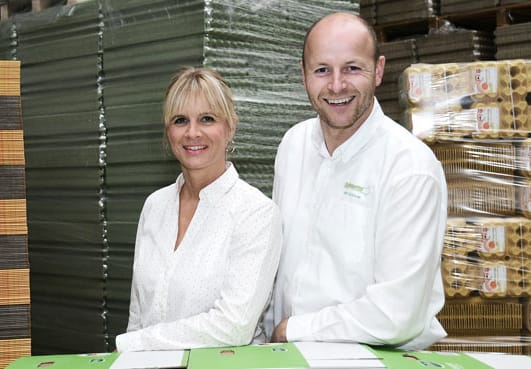 Joint Managing Director Arno Schmutte says it was important to the company to give customers more flexibility, but it's also a valuable driver of sales. "We've been getting more and more requests for smaller quantities of egg packs," he says, "especially from operators of mobile barns. We wanted to take this into account".
But his sister, Joint Managing Director Daniela Schmutte, goes on to say that it's also a powerful attractor of new business, adding "We're seeing an increase in mobile barn operators who can't be supplied directly by Hartmann".
Needless to say, to create all these possibilities, it's quite a machine…