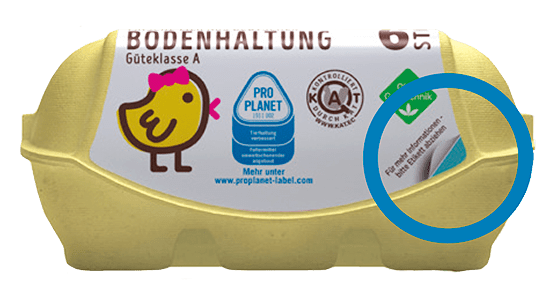 By using Hartmann's peel-off labels REWE is able to meet the needs of today's consumers who demand more information about their products' supply chain than ever before.
The label can easily be removed from the egg carton and has plenty of space on the back to inform buyers about REWE's initiatives for higher animal welfare.
What does it say on the label?
Penny, a supermarket chain belonging to the REWE group, uses the peel-off label shown on the right side for its barn eggs. "Herz Bube" is the German term for "Jack of the hearts". The label's back describes how male chick culling and beak trimming is counteracted.
On the one hand, the male chicks are reared in stalls with distraction material like pick stones and straw, and on the other hand, the beaks of laying hens are not shortened. In addition, the hens are fed GM-free feed. 
All these measures contribute to the fact that the eggs also carry the PRO PLANET label.